Line 83:
Line 83:
 
 
 

<script> { global $wgGallerier; $wgGallerier->addGallery( array( "path" => "genealogy/montage-planetarium-lyon-virtual/" )); } </script>

 

<script> { global $wgGallerier; $wgGallerier->addGallery( array( "path" => "genealogy/montage-planetarium-lyon-virtual/" )); } </script>

 
+
 
+
 
+
 
+
 
+
 
+
 
 
 

=== Early tests (2010) ===

 

=== Early tests (2010) ===
---
Revision as of 11:38, 24 April 2017
Genealogy is a generative programmatic artwork. Once launched, the program runs eternally, letting grow as time goes by primal civilizations represented under a schematic shape, following a set of simple but strict rules.
Lexique

L'image projetée est constituée de 2 voire 3 couches d'informations superposées. Seule la couche 'ALIVE' est mise à jour en permanence. Les autres se remplissent graduellement et témoignent de l'évolution de la civilisation au fil du temps. Elles sont nettoyées à chaque démarrage d'une nouvelle civilisation.
Le temps est résumé à une journée par image. Les individus ont une espérance de vie semblable à celle des humains, ce comprenant les âges et durées de fertilité.
L'aspect purement généalogique intervient au niveau de la création des couples mâle/femelle. La proximité généalogique rend plus difficile la fondation de famille consanguines. Pour pouvoir commencer à se reproduire, les couples doivent se placer sur des cellules de territoire encore vierge (n'ayant pas encore acceuilli de famille). Chaque installation d'une nouvelle famille influence aussi les cellules environnantes.
L'aspect tribal intervient au niveau territorial. Tout individu est lié à la tribu de son père. La consommation de l'espace vierge au fur et à mesure de l'expansion des tribus induit des frictions à leurs frontières. Ces frictions sont atténuées par la constitution de familles inter-tribales. En cas de tension trop forte, une guerre est déclenchée entre les 2 tribus. Les mâles sont envoyés sur une ligne de front. Les guerres se terminent en cas de mort de tous les mâles d'une tribus ou une fois que tous les mâles ont mené un combat contre un mâle de l'autre tribu. L'indice de tension entre les 2 tribus est alors remis à zéro.
Chaque tribu est placée aléatoirement sur le territoire à sa création. Elle reçoit en prime une configuration aléatoire qui définit son aggressivité en cas de frictions territoriales, la tendance de ses individus à s'éloigner de son épicentre, la surface occupée par chaque famille et le ratio de déplacement mâle/femelle lors de la création d'une famille. Ces paramètres ont une influence macroscopique sur l'évolution des tribus. La topographie a une influence sur le déplacement des individus. Ils glissent dans les pentes de la maquette, rendant plus difficile l'occupation de territoires en surplomb et plus facile l'installation dans les vallées. Ce paramètre influence les frontières des tribus.
La population globale d'une civilisation est limitée par un maximum absolu ayant 2 raisons d'être: la lisibilité de l'image, un grouillement de dizaines de milliers d'individus devenant incompréhensible en plus de présenter d'un risque de saturation instantané de l'espace, et le paramétrage avantageux pour les populations des conditions de mort.
couche
symbole
description
DEAD

tâche ronde de grande taille
tâche ronde de petite taille
ligne droite
ligne courbe

adulte mort
enfant mort
lien à la position du père
lien à la position du mère

ALIVE

point noir
carré noir
rond noir de grande taille
rond noir de petite taille
rond rouge
ligne noire
ligne rouge
triangle orange
carré orange

enfant
adulte mâle
adulte femelle fertile
adulte femelle non-fertile (ménopausée)
adulte femelle enceinte
lien à la position du père, vivante ou morte
lien à la position de la mère, vivante ou morte
adulte mâle en partance pour une guerre
adulte mâle revenant de la guerre

TERRITORY, présenté dans la v4.0
faisseau de lignes noires
nouvelles cellules de territoire influencé par une famille lors de sa création
ligne rouge
nouvelle cellule de territoire occupée par une famille à sa création
history
Boîtes noires, empreintes du monde et paysages intérieurs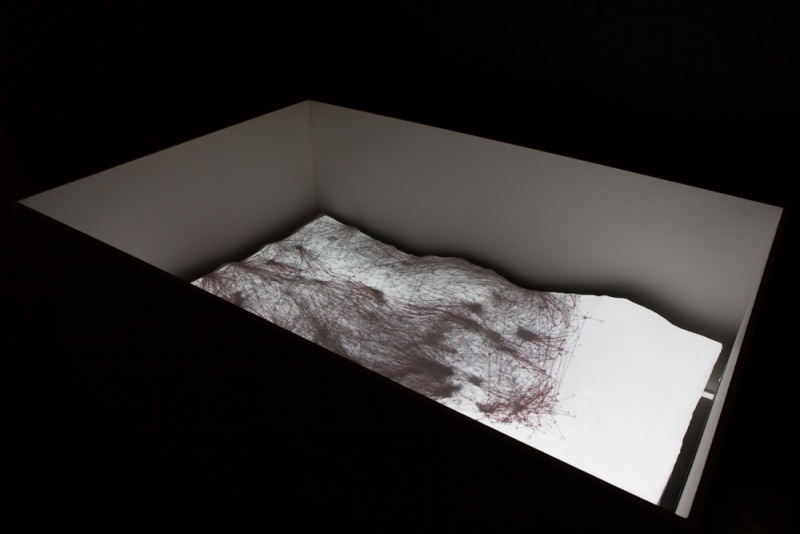 Exposition planetarium Vaulx-en-Velin, page de l'exposition.
montage
Scope Basel (2013)
no folder: g/gallerier/201306-scopebasel/

image folder:
complete folder: g/gallerier/
complete folder: g/gallerier/
cache folder: g/gallerier_cache/
resources folder: g/gallerier_resources/

---
---
no folder: g/gallerier/201306-scopebasel-montage/

image folder:
complete folder: g/gallerier/
complete folder: g/gallerier/
cache folder: g/gallerier_cache/
resources folder: g/gallerier_resources/

---
---
Early tests (2010)