Line 11:
Line 11:
 
 
 

'''[en]''' This work unit is based on the algorithmic processing of videos gleaned on pornographic platforms. The intention that guided the development of this algorithm aims to blur the obviousness and roughness of the sources and to turn them into an animated painting, twisting the mind of the watchers by eluding the direct representation of bodies without losing their presence, in a pictorial surface constantly morphing. It is also a way to trigger an awareness about the depiction of sexual act in the contemporary web-based world.

 

'''[en]''' This work unit is based on the algorithmic processing of videos gleaned on pornographic platforms. The intention that guided the development of this algorithm aims to blur the obviousness and roughness of the sources and to turn them into an animated painting, twisting the mind of the watchers by eluding the direct representation of bodies without losing their presence, in a pictorial surface constantly morphing. It is also a way to trigger an awareness about the depiction of sexual act in the contemporary web-based world.

 
+
 
+
 
+
 
+
 
 
 

-----------

 

-----------
---
Revision as of 08:52, 31 January 2018
Carnages 2 [extra small] - sound by Gauthier Keyaerts
Presentation
[en] This work unit is based on the algorithmic processing of videos gleaned on pornographic platforms. The intention that guided the development of this algorithm aims to blur the obviousness and roughness of the sources and to turn them into an animated painting, twisting the mind of the watchers by eluding the direct representation of bodies without losing their presence, in a pictorial surface constantly morphing. It is also a way to trigger an awareness about the depiction of sexual act in the contemporary web-based world.
Etymology of the word of pornography.
1842, "ancient obscene painting, especially in temples of Bacchus," from French pornographie, from Greek pornographos "(one) depicting prostitutes," from porne "prostitute," originally "bought, purchased" (with an original notion, probably of "female slave sold for prostitution"), related to pernanai "to sell" (from PIE *perə-, variant of root *per- (5) "to traffic in, to sell") + graphein "to write" (see -graphy)[1].
---
[fr] Cette unité repose sur le traitement algorithmique de vidéos glanées sur différentes plateformes de diffusion de matériel pornographique[2]. En clair, il s'agit de traitement de vidéos pornos.
L'intention qui a guidé le développpement cet algorithme vise à
ôter le caractère gynécologique des sources;
utiliser la source comme matière plastique (formes, couleurs, mouvements);
conserver la présence des corps et donc de leur sensualité, voire leur érotisme.
Au cours des versions, le choix des sources s'est affiné, ainsi que la compréhension du potentiel de l'algorithme[3].
---
[en] This unit is based on the algorithmic processing of videos gleaned from different platforms of pornographic material distribution of. In short, it's about processing porn videos.
The intention that guided the development of this algorithm aims to:
remove the gynaecological nature of the sources;
use the source as a plastic material (forms, colours, movements);
retain the presence of the bodies and therefore their sensuality, even their eroticism.
Along the versions, the choice of sources has been refined, as well as the understanding of the algorithm's potential.
Serie
#1 - cute brunette - vimeo
#2 - extra small - vimeo
#3 - rui
#4 - in da wood
(no number) - strapless, 30 seconds, part of ECVP Volume 4 PORN & POLITICS - vimeo
#5 - hitomi and the yakuzas - page
#6 - teeny black
#7 - jane in the toilet - page
#8 - creamy hairs, long play (~98min)
#9 - creamy patterns, long play (~99min)
History
2017 October - #6, #8 & #9 – synchroniCITIES: BXL-SP - Bruxelles – Belgium
2015 April - #2 - Found Pixels – La Panacée, Montpellier – France
2014 May - #2, #3 & #4 - Ateliers du web – Bruxelles
Behind
L'utilisation de ce type de source implique le questionnement de la place du corps des acteurs, aussi bien masculins que féminins, dans la production pornographique contemporaine, et permet la conscientisation de la mutation de la représentation de l'acte sexuel.
Rapide retour historique.
Le cinéma porno des années 70[4] est diffusé en salles et propose une sexualité décomplexée (publique), dans laquelle les humains filmés ont le statut d'acteurs. L'apparition de la VHS et des chaînes payantes fin des années 80 et ensuite du porno en ligne fin des années 90[5], obligent les studios à revoir la manière dont ils conçoivent leurs productions. De films formatés pour les salles (tournages longs, durée du film, mise en scène, durée d'exploitation) des seventies, on arrive à des films beaucoup plus rapides et moins chers à produire, permettant le renouvellement constant de l'offre sur les plateformes de ventes. Bien entendu, il existe toujours des sociétés produisant des long métrages de bonne qualité, comme Marc Dorcel[6], et des sociétés soignant la qualité de réalisation, comme SexArt[7].
Cette mutation du modèle économique a une implication directe sur la place des acteurs dans la production de masse contemporaine. D'acteurs au sens classique, c'est-à-dire de comédiens ayant un rôle à incarner dans le cadre d'une histoire racontée au public[8], les acteurs de gonzo[9] deviennent des perfomers[10], affranchis de l'impératif de l'interprétation. Ils ne jouent plus la comédie, ils sont simplement filmés pendant leurs ébats. Ce manque de cadre narratif projette beaucoup plus abruptement les corps à l'écran. Ils sont rarement nommés et le contexte est souvent réduit au strict minimum. Le ou les perfomers sont dans une pièce indéterminée (un salon, une chambre), utilisent leur noms de scène pour discuter, quand un dialogue introduit la scène. Les situations initiales varient peu et se conforment aux mots-clés qui seront utilisés pour les classer dans les plateformes (straight, gay, interracial, bukkake, amateur, etc)[11]. Cette forme de films est très proche du peep-show[12], puisqu'elle tente de réduire au maximum la distance entre le spectateur et le performer en lui donnant l'impression d'être présent sur le plateau.
Cette proximité du spectateur et du perfomer évacue le fantasme lié à une construction narrative un peu plus complexe et de ce fait diminue le travail de représentation mentale à accomplir par le spectateur. Cette transformation est typique d'une société hyperindustrielle, dans laquelle la pulsion prévaut sur le désir[13]. Il est logique que le secteur du film pour adulte ait été un des premiers à amorcer cette mutation, étant par sa nature hautement lié aux pulsions (...) et bénéficiant de l'ombre dans laquelle il circule. D'une libido s'assumant (plus) publiquement dans les années 70, le visionnage de film pornographique est retombé dans une certaine clandestinité sociale[14].
Les Carnages s'appuie sur la nudité extrême, puisque non-distanciée, et en même temps froide, puisque non-fantasmée, du corps des performers des gonzos. Cette crudité est une composante essentielle du travail. En effet, un film construit classiquement, avec une trame narrative, rend plus compliqué son traitement. Dans ce genre de production, l'image et le montage sont conçus en fonction de l'histoire, lui sont subordonnés. Lorsqu'ils sont importés dans le système de traitement, cette construction perturbe le travail pictural puisqu'elle impose sa présence sémantique. Des tests ont été fait avec ce genre de films, qui se sont à chaque fois soldés par des résultats peu concluants. À l'inverse, les gonzos ne sont pas construits en fonction d'une narration mais sont tout entiers concentrés sur la captation de l'image, sur les détails et les poses du corps des performers. La caméra devient un outil de relevé dont le rôle est de montrer au mieux l'action à laquelle elle assiste. Leur production étant très rapide, un minimum de montage est effectué avant la mise en ligne. Ils sont donc très proches du matériel brut (le rush). La qualité de la prise de vue est malgré tout importante puisqu'elle va permettre une certaine homogénéité colorimétrique tout au long du film.
Cette nature brute du matériel ne perturbe donc pas le travail plastique mais au contraire le rend possible. Lors de la conception, bien que en cours de coït, les corps représentés sont proches et s'offrent au traitement sans le charger de sens, ce qui les rapproche du statut des modèles utilisés en peinture ou dessin. Il s'agit ici de les regarder au travers d'un algorithme, tout en le configurant pour produire de nouvelles images dans lesquelles ils sont bien évidemment présents mais sans être premiers. C'est en ce sens (la transformation d'un corps en son évocation) ainsi que par le type particulier d'effets obtenus au travers de l'informatique que Carnages entretient un rapport avec la peinture. L'oscillation constante entre représentation et abstraction appelle une réflexion picturale s'appuyant sur la matière et la masse.
Il est à noter que le rôle de l'algorithme, outre la sélection de plages de couleurs, est de favoriser la disparition des gros plans. Il avait été initialement conçu pour la sélection des teintes de peau. Une fois la peau sélectionnée, il est très vite apparu que les scènes gynécologiques[15] avait peu d'intérêt plastique, puisqu'elles saturaient rapidement l'image. Un calcul de densité a donc été ajouté à la sélection, permettant de faire varier son opacité.
Petit bonus:
Log
Related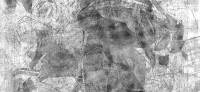 References
photos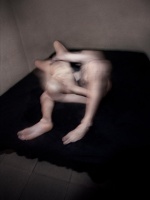 Antoine d'Agata, Atlas
painting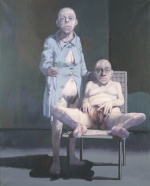 Jean Rustin, Les deux amies, 1982-1989, acrylic on paper, 170 x 120 cm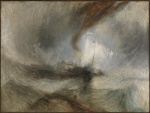 William Turner, Snow Storm: Steam-Boat off a Harbour's Mouth, 1842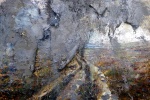 Anselm Kiefer, Gehäutete Landschaft, 2016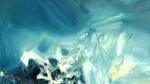 Chu Teh Chun, Untilted - Lyrical abstraction
digital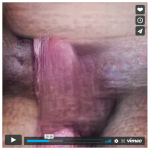 MLPorn by Jake Elwes, convolutional neural network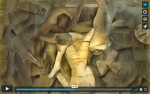 Picasso x Porn by Kyle McDonald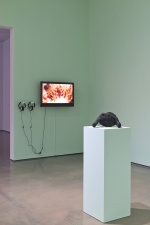 Links