Generation of animated normal maps using processing, experimentation phase.
Demo in blender.
First generated file. Code
To achieve the "engravement" effect, rectangles must be drawn using the following rule:
a straight surface has no X or Y slope of 0°, its color is thus RGB( 127, 127, 255 )
angles in X and Y are limited to the range [-90°, 90°], represented as the color range [0, 255].
therefore, an angle of -45° on X is represented by the red value 64, by making 127 - 63
to draw an engraved line, you need to take into account the direction of the line, as it will influence the X and Y slopes.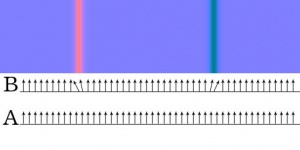 thanks to Trainz Wiki for this very usefull schema!
References